World Fantasy Con was particularity special this year. Had an excellent time and got some marvelous commissions including the turtle from Julie Czerneda's new novel A Turn of Light. I'm excited about doing it.

Photo below is a pendant set with a metallic stag jasper of the "becoming invisible dragon" from Tanya Huff's Emporium Series . We ended up taking the photo at World Fantasy under less then ideal circumstances, so there are light reflections in the stone. Actual stone is richer and more beautiful. But the photo does give a good sense of the design.

Working out the design aesthetic while conceptually creating the sense of "turning invisible" was challenging in a really good way.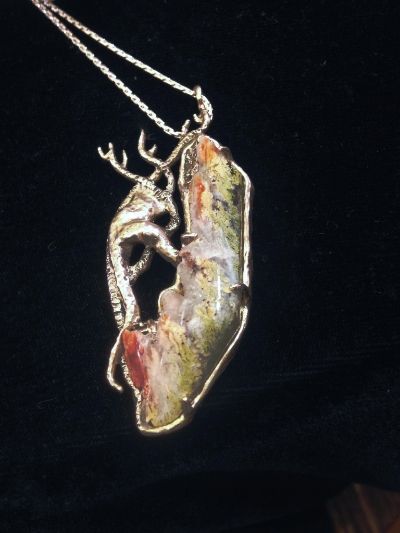 Pendant is about 2.5" high. From the collection of Marsha Jones.