I've made three necklaces for Worldcon from lava beads that I got in Iceland. This one is made with flamboyant pearls and antique Chinese beads from the 19th century that are made to look like bone or ivory. Pearls are far more lustrous and vivid then the photo. As I said earlier, I'm really liking working with the lava. I'm bringing 2 snapshot photos with me to show some of the places that I gathered the lava.

This is a necklace that took a very long time to finish. I've written about it before. It was made with the two antique Thai earrings that Tracy Schmidt brought back from a trip to Thailand. The earrings themselves are stunning. Creating a necklace that would be both a very strong design in it's own right, and still focus on the earrings was a good challenge. I am _very_ happy with the completed piece.

All the pieces are carved with a peacock feather design that is an interpretation of the design on the earrings. Many of the links are set with small diamonds. The earrings are held in bands that are riveted and set with small diamonds. This enables the earrings to be removed without changing anything about them and was a design challenge all by itself.

The level of detail is not very photographable but I think this image gives a sense of it.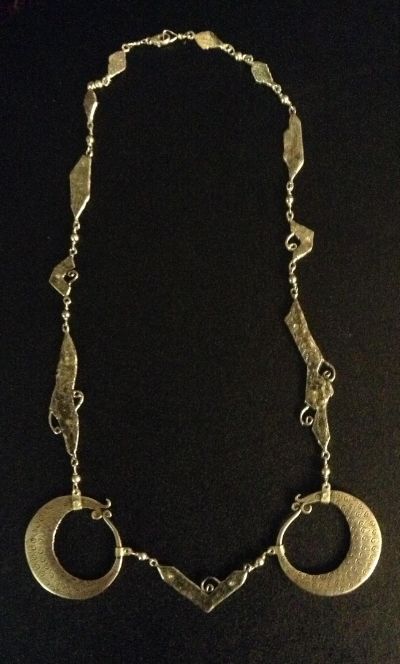 This is definitely my last post before I leave for Worldcon. I'm looking forward to seeing everyone.

As I go over this I keep fining more typos. I still have a lot to do and my brain is tired. Please excuse the one's I've missed.